Below are the most useful databases to explore the richness of the journal literature in Architecture.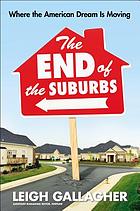 Gallagher, L. (2013). The end of the suburbs: Where the American dream is moving. New York: Portfolio.Penguin.
"For nearly 70 years, the suburbs were as American as apple pie. As the middle class ballooned and single-family homes and cars became more affordable, we flocked to pre-fabricated communities in the suburbs, a place where open air and solitude offered a retreat from our dense, polluted cities. Before long, success became synonymous with a private home in a bedroom community complete with a yard, a two-car garage and a commute to the office, and subdivisions quickly blanketed our landscape. But in recent years things have started to change. An epic housing crisis revealed existing problems with this unique pattern of development, while the steady pull of long-simmering economic, societal and demographic forces has culminated in a Perfect Storm that has led to a profound shift in the way we desire to live. In The End of the Suburbs journalist Leigh Gallagher traces the rise and fall of American suburbia from the stately railroad suburbs that sprung up outside American cities in the 19th and early 20th centuries to current-day sprawling exurbs where residents spend as much as four hours each day commuting. Along the way she shows why suburbia was unsustainable from the start and explores the hundreds of new, alternative communities that are springing up around the country and promise to reshape our way of life for the better. Not all suburbs are going to vanish, of course, but Gallagher's research and reporting show the trends are undeniable. Consider some of the forces at work: The nuclear family is no more: Our marriage and birth rates are steadily declining, while the single-person households are on the rise. Thus, the good schools and family-friendly lifestyle the suburbs promised are increasingly unnecessary. We want out of our cars: As the price of oil continues to rise, the hours long commutes forced on us by sprawl have become unaffordable for many. Meanwhile, today's younger generation has expressed a perplexing indifference toward cars and driving. Both shifts have fueled demand for denser, pedestrian-friendly communities. Cities are booming. Once abandoned by the wealthy, cities are experiencing a renaissance, especially among younger generations and families with young children. At the same time, suburbs across the country have had to confront never-before-seen rates of poverty and crime. Blending powerful data with vivid on the ground reporting, Gallagher introduces us to a fascinating cast of characters, including the charismatic leader of the anti-sprawl movement; a mild-mannered Minnesotan who quit his job to convince the world that the suburbs are a financial Ponzi scheme; and the disaffected residents of suburbia, like the teacher whose punishing commute entailed leaving home at 4 a.m. and sleeping under her desk in her classroom. Along the way, she explains why understanding the shifts taking place is imperative to any discussion about the future of our housing landscape and of our society itself--and why that future will bring us stronger, healthier, happier and more diverse communities for everyone."--Publisher's website.

Libraries' Interfaces Are Changing
The WSU LIbraries is in the process of simplifying its webpages and changing its core software in preparation for a move to shared integrated library system (SILS) at the end of 2013. Because recent LibQual+ results revealed that library users found the present Libraries' web interfaces difficult to use and wanted easier, more intuitive access tools, the new changes should resonate with many who are reading this. Shared with the other 37-members of the ORBIS Cascade Alliance (our Summit partners), the new system promises to provide students and faculty with more resources easily, resulting in more efficient research and better results.
Stay tuned for further details.....
WSU WorldCat, the online discovery engine for the WSU Libraries, allows users to search local, regional, and faraway collections for books, journals, and other media wherever they may be housed. It includes items housed at the "Washington State University Libraries," the "Summit Libraries" (our regional consortium of Washington and Oregon libraries), and the "WorldCat Libraries." Because users can search for these items all at one time, WSU WorldCat is truly one-stop shopping! Simply follow the record down the page and click on the appropriate buttons!
Because WSU WorldCat contains several article databases that may or may be useful in a particular search, WSU WorldCat may be used as an article-level discovery tool. However, a search of WSU WorldCat should never be viewed as a substitute for the architecture databases identified in this guide as key resources. When using WSU WorldCat, users should pay particular attention to the limiting options available down the left-hand sidebar each item records where search results may be limited by Databases or Format, or further Refined by Author, Year, Language, Content, Audience, or Topic. These options help users explore the many types of items available through WorldCat.
WSU WorldCat originates from a central generic search box on the Libraries' homepage. Please note however that there is a link below the search box labelled "Advanced Search" for patrons who want a more tailored version of the article indexes in the database.
Here is a link to the WSU Libraries' homepage:
The Libraries' old catalog, GRIFFIN, is still being updated and available for searching. GRIFFIN offers users a few notable advantages including easy known-item searching (either we have something or we don't), keyword searching that may be limited to location (e.g., WSU Owen), course reserve searching including online course reserves, and an embedded stack chart for the Holland and Terrell Libraries.
Here is a link directly to the GRIFFIN catalog:
Guides to Doing Research in Architecture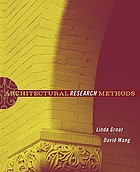 Groat, L. N., & Wang, D. (2013). Architectural research methods. New York: J. Wiley. (eBook)
Groat, L. N., & Wang, D. (2002). Architectural research methods. New York: J. Wiley. (print) Owen Science Library Reference Call number: NA2000 .G76 2002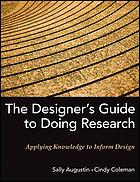 Augustin, S., & Coleman, C. (2012). The designer's guide to doing research: Applying knowledge to inform design. Hoboken, N.J: John Wiley & Sons. (eBook)
UNESCO World Heritage Site
View of Passion Façade of Basilica and Expiatory Church of the Holy Family (Basílica i Temple Expiatori de la Sagrada Família). Barcelona, Catalonia, Spain.
Courtesy of Wikimedia Commons.
I hope that this libguide is helpful and I welcome suggestions for its improvement.
The Architecture Library was moved from Carpenter Hall in the summer of 2012 to the second floor of the Owen Science Library. The Owen Science Library is located close to Carpenter Hall--about 300 feet east of Carpenter Hall on College Street.
The Owen Science Library hours are:
Mon - Thurs 7:30am -- 8:45am
Friday 7:30am -- 5;45pm
Saturday 1:00pm --5:45pm
Sunday noon -- 8:45pm
As the Architecture subject liaison, I am available by email or in person for class presentations or student research consultations. Feel free to contact me any time. My contact information is below.
Outdoor Sculpture, Millennium Park, Chicago
Cloud Gate (the Bean), by Anish Kapoor. Stainless steel highly polished to resemble mercury.
Courtesy Wikimedia Commons.